THERAPIES
We strongly believe Wyatt's participation in a combination of traditional and alternative therapies enhanced his quality of life, development, and prolonged his short life. Ask your pediatrician's suggestions and do not hesitate to pursue other therapies as well. Some options we were planning on pursuing with Wyatt included accupressure and reflexology. Unfortunately, we were not able to try them, but their impact may have helped Wyatt remain comfortable. We chose to use private therapists in our home. However, therapy support is also available through your County School System as well as the Muscular Dystrophy Association (MDA).
PHYSICAL THERAPY
A licensed Physical Therapist can be a huge help in keeping your child comfortable while on the right path to continued "normal" development. A Physical Therapist with special training in Neurodevelopment Treatment (NDT) will further enhance these skills by tuning in to your child's unique neuromuscular SMA needs. Wyatt truly enjoyed his weekly sessions with his Physical Therapist and we were able to use new strategies for positioning and play to ensure maximum comfort and developmental health. Contact the American Physical Therapy Association (APTA) for assistance in locating a private Physical Therapist.
CRANIOSACRAL THERAPY
This gentle "touch" therapy helped Wyatt to contain his body, elongate his spine, and relax his breathing through specific touchpoints and holding positions along the spine, sacrum, and skull. Wyatt would shift from being extremely upset and "out-of-sorts" to being calm and content within seconds of starting this hands on therapy. The power of touch is a truly amazing thing and can be taught to parents by specially trained Physical Therapists. Contact the American Physical Therapy Association (APTA) for assistance in locating a private Physical Therapist.
MASSAGE
To be completed by 10/31/99
HYDROTHERAPY
Wyatt loved his baths almost as much as he loved to be held. We would take him "swimming" in our regular bathtub. We filled the tub with lots of bubbles and 90 degree water. Then while one of us was sitting in the tub, the other would hand Wyatt to them and we would submerge Wyatt up to his neck and gently support his neck and bottom. Then we would sit back and enjoy his smile and and watch him delight in his sudden freedom of movement. Wyatt would really go to town moving his arms and legs all over the place. His smile never got bigger than when he was in the bathtub. We did a lot of videotaping of these baths and now enjoy watching Wyatt's amazement and pride when he figured out that he really could move in the water.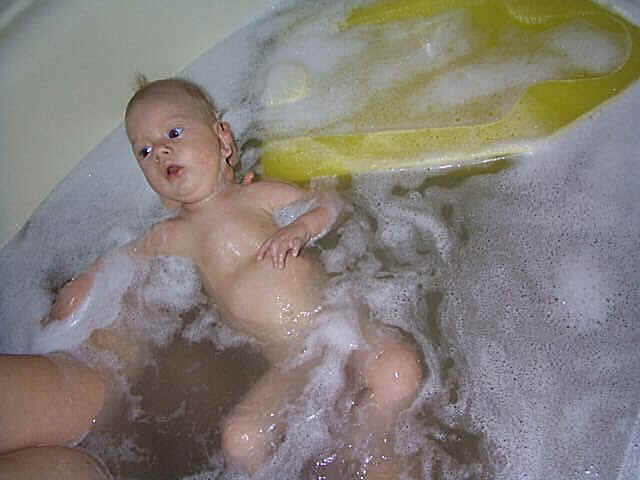 Each infant stricken with SMA, Type I is different. We have included this only for your information. All medical decisions should be made in conjunction with your doctor.