OXYGEN
Wyatt required continuous Oxygen for a couple of months. To continue with "normal" baby activities such as walks and car rides we used a variety of sources. We also kept portable Oxygen in the house for "blow by" treatment when Wyatt would have "blueing" episodes. Ask your visiting nurse and durable medical goods distributor for further options.
STATIONARY TANK
This larger tank usually lasts 3-7 days continuous depending on how much your child uses. We used this tank as back-up when the power went out or when we wanted a break from the noise of the room air concentrater.
PORTABLE TANKS
These tanks were great. They fit nicely under the stroller and are easily carried on your shoulder for increased portability. This oxygen allowed Wyatt to continue doing what he loved-going outside for walks, swimming in the bath tub, visiting friends-despite his need for continuous oxygen support.
ROOM AIR CONCENTRATER
This machine is wonderful. It is an electrical device that converts room air into oxygen continuously. It is noisy and rather large but you won't have the worries of tanks running out. WYATT'S TIP: Make sure your tubing is long enough to enable you and the baby to move about the room freely, also get the humidifier attachment - the air can be dry.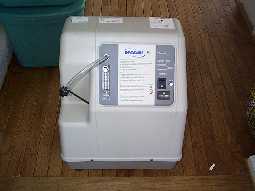 HUMIDIFIERS
It is essential to humidify the Oxygen before giving it to your child. A little container of water fits onto the valving and "bubbles" to moisturize the Oxygen. Moisturizing the Oxygen prevents drying out the nose and mouth which can result from constant use of non-humidified Oxygen. Be sure to request the Oxygen humidifiers when the order for your Oxygen is placed.
Each infant stricken with SMA, Type I is different. We have included this only for your information. All medical decisions should be made in conjunction with your doctor.