THOUGHTS FROM MOM
After Wyatt died, I took pen to paper to reflect on the many ways
he touched my life. In his brief life with us he taught all of us so
very much. It is fascinating to think such a tiny person can know
so much and share so fully that knowledge.
To read excerpts from my journal click here: journal
A Poem
"Reflections of Wyatt"
So Small and yet so Big

So Weak and yet so Strong

So Quiet and yet so Vocal

So Still and yet so Active

So Curious and yet so Knowing

SO COLD

SO QUIET

SO COLD

So Grim and yet so Bright

So Sad and yet so Happy

So Worried and yet so Calm

So many tears and yet so dry

SO MUCH PAIN

SO MUCH LOVE

SO MUCH HOPE.
A SONG:
I sang the first verse of this song to Wyatt when ever he was upset, from

the moment he was born it seemed to soothe him. I made the second verse after he died-it just seemed to fit somehow...
WYATT'S SONG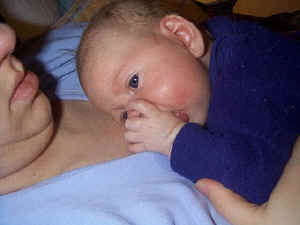 We love you Wyatt
Oh yes we do

We love you Wyatt

It's true

And when you go away

We're blue

Oh Wyatt we love you
We love you Wyatt
You know we do

We miss you Wyatt

That's why we're blue

But when we see the sky

It's you

Oh Wyatt we thank you!
"WYATT'S WISDOM"

Never wake without a smile

You can always move something, just a little bit

Welcome strangers with excitement and curiosity

Always pay attention to your surroundings-you'll always see something different

To love someone is gift

Strength comes in small packages

Courage is knowing when to stop

Angels really do exist

It's okay to laugh

It's okay to cry