DADDY'S DOMAIN
This area will continue to grow. I will use this area to help fathers that have been placed into what will be the toughest job of their lives -- caring for their dying child.
1/6/99
I was in Toronto on business, at the airport waiting to come home. I called my wife and was greeted by a pained voice. I asked what was wrong and was told that my 2 month old was very sick. Julie didn't want to let on any more, I had a two hour flight and she was trying to protect me.
I pressed, she refused to tell me more. Then her voice broke and what she told me has forever effected me. Wyatt, my first born, was going to die. He had a genetic defect called Spinal Muscular Atrophy, Type I, and the odds of him being alive to celebrate his second birthday were almost non-existent.
This was my introduction to Hell. In less than a minute all hopes and dreams for my child were viciously yanked from my being, and deposited into a trash bag. No baseball games, no helping with homework, no teaching how to use tools---no life.
My responsibilities as a father and a man, as I knew them disappeared that cold January evening. I knew not what to do.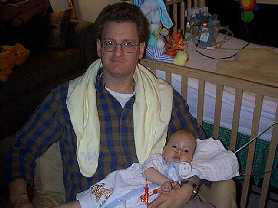 Daddy's and Wyatt's Song
Daddy, Daddy, Daddy----What's wrong with me?

Daddy, Daddy, Daddy----I want to climb a tree!

Daddy, Daddy, Daddy----What's wrong with me?

Daddy, Daddy, Daddy----I want to stand and pee!

Daddy, Daddy, Daddy----What's wrong with me?

Daddy, Daddy, Daddy----It's time for me to flee!

Daddy, Daddy, Daddy----Look for me!!

Daddy, Daddy, Daddy----I can climb a tree!

Daddy, Daddy, Daddy----I can stand and pee!

Daddy, Daddy, Daddy----look at me!

Daddy, Daddy, Daddy----I'm bouncing on your knee!
Holding onto my son's hand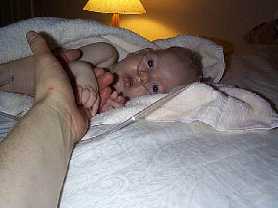 Though my wife kept a journal, which I now wish I did, I did try to write every once and a while. Below is a copy of a letter I wrote to Wyatt the morning of 1/22/99.
Dear Wyatt-
It's 12:52am and you're quietly sleeping next to me. You look so calm and happy. Your little hands and fingers curled up. I wonder what you're dreaming? I had so many wishes and dreams for you -- now all I have for you is love --something that I'll give you everyday --and will never lose. Your mom and I cherish you -- our hopes and dreams for you will live on long after you leave us.
It's just not fair that you're leaving --we really didn't get to know you, now we're trying to cram a life time of love into a small window of opportunity. Wyatt, you're precious to us --we look at you and our hearts break --you look so full of life, longing to play, learn and grow. Yet your little body won't let you. We only hope that you know how much we love you.
It's no ones fault, Julie and I know that, but when I look at you and your mommy, she has so much love for you -- my heart aches. I don't know the right words or actions to let her know how much I love her and want to support her through the nightmare the three of us will go through. I'm trying to be strong, but my heart melts when I think of life without you, you're so innocent, but you've got a strength -- I only hope that mommy and I can be as strong as you.
You love your baths and playing with balloons. Your smile is so beautiful --what's it going to be like when you don't/can't smile? Your smiles and sighs give us such relief.
Sometimes I think if I hold you tight enough everything will be fine.....
I'm supposed to be the one who can and will protect you -- I'm trying. I do the best I can to cherish you, love you and will keep your memory alive -- but I'll lose a part of me doing that. What can I do today, tomorrow and next week to make you smile, happy and stronger?
I love you, but I don't think that's enough -- but it's all I know -- I want to hold you and squeeze the awfulness out of your body to make room for more receptors and muscle stimulators.
It's not fair that God has given you to us for such a short time frame, but he's building a wonderful place for you to stay and grow old until mommy and daddy get to be with you again. I've never believed in Heaven, but I can't image not seeing you again, or not seeing you as an adult - so there must be a Heaven.
Love,
Dad